Wild Hog Dolmas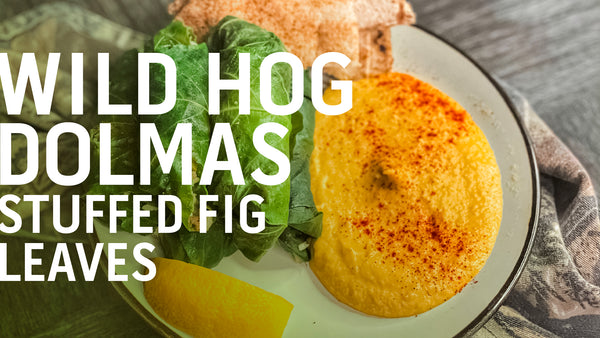 By Nathan Judice
@recreationalchef
www.raisedonwild.com
Servings: 4 servings
Prep Time: 30 minutes
Cook Time: 25 minutes
During spring, I always find myself staring at my fig tree with its beautiful new shoots, leaves, and tiny immature fruit. The more I stared at the fig tree leaves, the more they looked like grape leaves. Then this great idea hit me: Dolmas! (known as stuffed grapes leaves)
In my case, I choose to use tender fresh leaves from my fig tree. That's right. You can eat fig leaves and they're quite tasty and nutritious. They have a similar shape, size, and texture to grape leaves and offer a faint coconut flavor. Next time you're staring at your fig tree waiting for the figs to ripen, think outside the box and bring those leaves in the kitchen to make a new dish.
 Happy Hunting!

INGREDIENTS
12 Fig Leaves
2 Tablespoons Olive Oil
1 pound Ground Wild Hog or Venison 
1/2 Cup of Diced Onion
1/2 Cup of Diced Bell Pepper
1/2 Cup of Diced Fennel
1/2 Cup of Diced Tomatoes
3 Tablespoons of Minced Garlic
1/2 teaspoon Red Pepper Flakes
2 Tablespoons and 1 teaspoon Kosher Salt
1 teaspoon Cumin
1 teaspoon Smoked Paprika
1/2 teaspoon Allspice
1 teaspoon Fenugreek Powder
1 1/2 Cups of Cooked Rice
1/4 Cup Chopped Parsley
2 Tablespoons Chopped Mint
2 Lemons
INSTRUCTIONS
In a stock pot, add 2 quarts of water and 2 tablespoons of salt. Then, place over medium heat until the salt is dissolved and the water is simmering.
Once the water is simmering, add the fig leaves and blanch them for 1-2 minutes until soft and pliable.
Drain the fig leaves. Let them dry and cool to room temperature. Once the fig leaves are at room temperature, remove the woody stems.
While the fig leaves are cooling, heat a 9" skillet to medium-high heat and add 2 Tablespoons of olive oil.
Cook the meat in the skillet until brown. Then, add the diced onion, bell pepper, fennel, tomatoes, and minced garlic. Cook an additional 3-5 minutes until the vegetables are tender and translucent.

When the meat and vegetables are cooked, stir in the red pepper flakes, 1 teaspoon salt, cumin, smoked paprika, allspice, and fenugreek powder until combined.

Mix in the cooked rice, parsley, and mint into the meat and vegetable mixture. Taste the mixture to ensure it has enough salt for your taste. This mixture will be the stuffing for the Dolmas (stuffed fig leaves).

Lay out the fig leaves. Place 2 - 4 Tablespoons of the stuffing on each fig leaf, then roll them like a burrito.
Once all of the fig leaves are stuffed, place in a steamer (You can use your choice of an electric or rice cooker style steamer, or a steamer basket set inside of a stock pot).

For the electric steamer, fill the inner pot with an inch of water then place steam rack and add the Dolmas to the rack

squeeze one lemon over the stuffed fig leaves, then steam for 10 minutes. Serve!

For the steamer basket, put 1-2 inches in a stock put then place your steaming basked inside of you stock put. Place the pot on medium heat until the water starts to simmer/steam. Next, layer in your Dolmas onto the steamer basket and

squeeze one lemon over the stuffed fig leaves, then steam for 10 minutes. Serve!
I love to accompany the Dolmas with hummus, tzatziki sauce, and a lemon wedge.