Citrus Ginger Rabbit with Cucumber Salad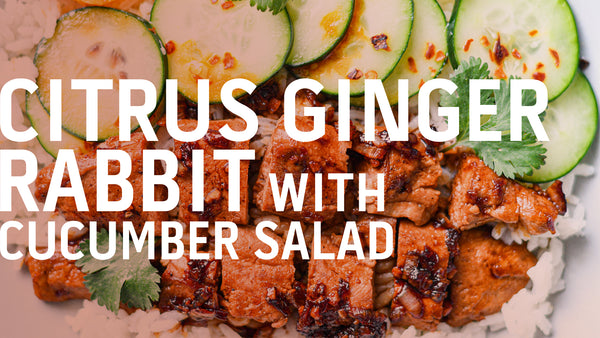 By Jeff Benda
Prep time: 15 minutes
Cook time: 10 minutes
Serves: 2
Ginger is the spice of life that provides a whisper of heat to this 30-minute meal that gets dinner on the table in a flash. My wife and 7-year-old daughter love this rabbit dish made with a few pantry staples and a few fresh ingredients. I use fresh oranges, but you can certainly substitute refrigerated orange juice to transform this versatile white meat into something spicy, sweet, sour and satisfying!
Rabbit is one of those meats that was a staple back in Early America - when hunting was the way to put meat on the table. Now it's considered to be a specialty meat most popular in European cuisines like the French dish lapin à la moutarde. I love using rabbit to create elevated comfort foods like Southern Fried Rabbit or a Corned Rabbit Reuben Sandwich for Saint Patrick's Day.
When compared to more popular meats like beef, pork, chicken, or turkey, rabbit has the highest percentage of protein and the lowest percentage of fat and calories per pound, making it a lean nutritious option for the family dinner table. It's as versatile as chicken in cooking applications, and the texture is basically the same. But I find rabbit has a richer and stronger flavor than any domestic bird.
The hunting season for rabbits is open year-round here in North Dakota, and there is no daily bag limit. I prefer hunting these furry critters with a .22 rifle during winter months, but I usually pick up a few cottontails with my shotgun while out duck hunting or pheasant hunting every fall.
The saddle or loin midsection of the rabbit we are using for this recipe cooks much faster than the legs and front quarters, making it perfect for a quick and easy weeknight meal. I prefer cooking the rabbit's hind legs and front quarters on a lazy Sunday afternoon when I have time for a low and slow braising method.
INGREDIENTS
1 whole rabbit saddle (or loin), boneless
1/2 teaspoon salt
1/2 teaspoon black pepper
1 large orange
2 teaspoons lime juice
1 tablespoon low sodium soy sauce
1 tablespoon honey
1/8 teaspoon crushed red pepper chili flakes
1 tablespoon olive oil
1 small yellow onion, diced
1 tablespoon minced garlic
1 teaspoon freshly grated ginger
2 tablespoons fresh cilantro leaves, for garnish
1 cup cooked rice, for serving
1 cucumber, sliced
INSTRUCTIONS
Pat the rabbit loin dry with paper towels and season both sides with salt and pepper. Set aside on a plate until ready to cook.
Using a sharp knife, slice the orange in half and remove the seeds. If you want to go seedless, use a navel orange. One at a time, grip each orange half tightly and squeeze it by hand, twisting the inside with a fork to coax all the juice out into a medium bowl.
Add the lime juice, soy sauce, honey, and chili flakes and stir well to combine.
Heat a large sauté pan with olive oil over medium-high heat. Place the rabbit loin down in the pan and reduce the heat to medium. Cook until the rabbit is golden brown and crispy, about 2 minutes. Flip the rabbit and continue to cook until golden on the other side for about 2 minutes more until the internal temperature reaches 140 degrees F. Remove from pan and transfer to a clean plate.
To the same sauté pan add onion, garlic, and ginger. Cook for 3 minutes until soft and fragrant. Whisk in the orange juice mixture and increase the heat to medium high.
Return rabbit to the pan and cook in the liquid for about 2 minutes until internal temperature of rabbit reaches 160 degrees F.
Garnish with cilantro and serve with cooked rice and a cucumber salad.