Grilled Paddlefish and Summer Veggie Bowl with Radish Tzatziki Sauce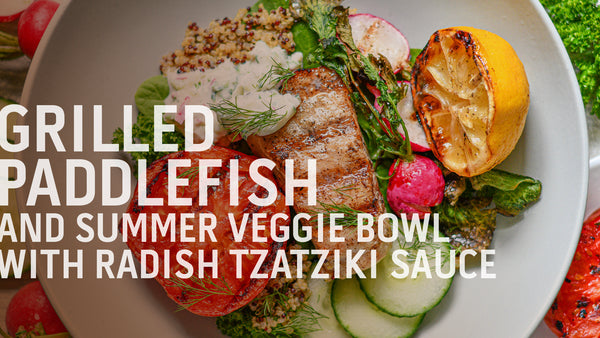 By Jeff Benda
Prep time: 45 minutes
Cook time: 15 minutes
Servings: 2
Snagging a Paddlefish is a unique experience that involves the angler using an 8 or 10-foot fishing rod to try and pull in a prehistoric-looking river monster. It's an exhausting cast and retrieve cycle of yanking a heavy lead weight and large treble hook through the water.
I traveled to western North Dakota this past May and fished the shore at the confluence of the Missouri and Yellowstone rivers. After two days, I finally reeled in a 45-pound fish to take home and try with a few new recipes.
If you've never tried eating Paddlefish, here's a fresh and delicious dinner idea that I think you'll love. This Grilled Paddlefish Bowl is quick and easy and full of Greek flavors. It's loaded with healthy veggies then topped with a cool creamy tzatziki sauce. Serve it in a bowl over quinoa and greens.
If you don't have access to Paddlefish, you could use salmon, cod, or catfish to make this dish.
Ingredients
Two 4-ounce Paddlefish fillets
2 teaspoons olive oil + more to drizzle
salt
black pepper
1/2 cup uncooked quinoa
Canola oil for grill
One lemon, sliced in half
One beefsteak tomato, sliced in half
2 radishes with green tops intact, sliced in half
1 cup fresh baby spinach or arugula
Fresh dill for garnish
Radish Tzatziki Sauce Ingredients
3 medium radishes, scrubbed and trimmed
1 medium cucumber
1 cup plain Greek yogurt
1 teaspoon minced garlic
1 tablespoon olive oil
1 teaspoon fresh squeezed lemon juice
2 tablespoons chopped fresh chives
2 tablespoons chopped fresh dill
1 teaspoon salt
1/2 teaspoon black pepper
Tzatziki Sauce Instructions
Grate the radishes on a box grater. Place the radishes in a paper towel and squeeze out the liquid. Transfer to a medium bowl.
Grade the cucumber on the box grater. Place the cucumber in a paper towel and squeeze out the liquid. Transfer to bowl with the radish.
Add yogurt, minced garlic, olive oil, lemon juice, chives, dill, salt, and black pepper.
Cover and refrigerate for at least 30 minutes or up to 12 hours. It will keep in the fridge for up to 4 days.
Paddlefish Bowl Instructions
Preheat a grill to medium high.
Brush Paddlefish fillets with 2 teaspoons olive oil and season with 1/4 teaspoon each salt and pepper. Set aside.
Set the quinoa on the stove and cook according to package directions, about 15 minutes.
Brush the lemon, tomato, and radishes with olive oil and season with salt and pepper.
Lightly oil the grill with canola oil. On one side of the grill, add the Paddlefish fillets. On the other side of the grill add the tomato (open side down), the lemon (open side down), and the sliced radishes. Grill the Paddlefish until well-marked and the fish flakes easily with a fork, about 2 1/2 minutes per side. Remove to a plate.
Grill the tomato, lemon, and radishes until grill marks appear, about 4 minutes. When vegetables and fish are done, assemble the 2 bowls.
Divide cooked quinoa between the two bowls. Top with a handful of fresh greens and a drizzle of olive oil. Sprinkle with salt and pepper and a squeeze of the grilled lemon.
Arrange the grilled fish and vegetables on top.
Spoon tzatziki sauce over the top and scatter with fresh dill. Serve immediately.