Venison Chop Suey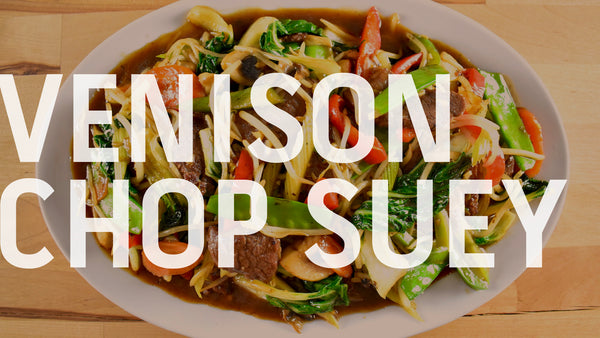 By Adam Berkelmans
www.TheIntrepidEater.com
Instagram
Serves: 4
Time to Prepare: 30 minutes
Time to Cook: 15 minutes
Total Time: 45 minutes
This chop suey recipe uses a Chinese velveting technique to marinate the venison as well as a classic sauce which will give you an end product that will very much resemble Chinese take-out, but taste even better.
It's important to be sure not to overcook the vegetables They really don't need a lot of time in the wok or skillet, so have everything prepared and ready to go when it's time to start cooking. Most grocery stores sell much of the ingredients listed here, but if you can't find something it's okay to omit it. The recipe will still come out tasty!
Ingredients:
 For the Marinade:
1 pound venison bottom round, cut into strips
1 tablespoon oyster sauce
1 tablespoon Shaoxing wine or cooking sherry
1 teaspoon cornstarch
1/2 teaspoon baking soda
1/2 teaspoon sesame oil
For the Sauce:
1/2 cup chicken stock
1 tablespoon light soy sauce
1 teaspoon dark soy sauce
1 tablespoon oyster sauce
1 teaspoon sugar
1 teaspoon sesame oil
1 teaspoon cornstarch
4 cloves garlic, minced
For the Chop Suey:
2 tablespoons cooking oil or fat
4 white button mushrooms, sliced thinly
1 carrot, peeled and sliced thinly
4 stalks celery, sliced
1/2 red pepper, sliced
1/2 green pepper, sliced
3 baby bok choy, sliced
3.5 ounces snow peas, trimmed
8 ounces bean sprouts
Preparation:
Mix the marinade ingredients together in a bowl and toss in the meat, massaging the marinade into the meat for 1 minute.
Mix the sauce ingredients in a bowl.
Add the 2 tablespoons of oil to a wok or your largest skillet over medium high heat. Add the meat and cook, stirring, for about 5 minutes. You don't want browned meat in this case, just mostly cooked through. Set the meat aside.
Increase heat to high and add more oil if the wok or skillet is looking dry. Add half of the veggies and stir fry for 3-4 minutes. Set aside. Repeat with the other half, then add the meat and other veggies back into the pan.
Stir the sauce with a fork to re-incorporate the cornstarch, then add it to the meat and veggies. Cook, stirring, until the sauce thickens and coats the ingredients.
Serve immediately with cooked rice or noodles. Enjoy!