Venison Empanadas with Aji Verde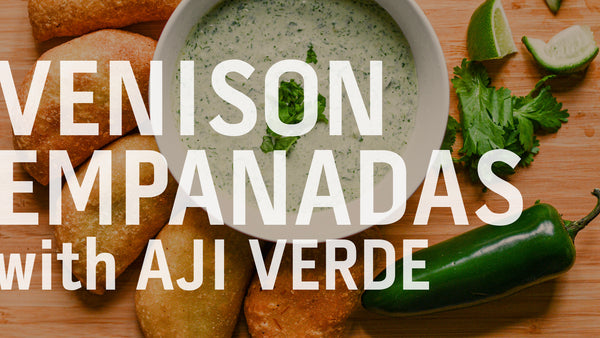 By Jeff Benda
Serves: 8
Prep time: 25 minutes
Cook time: 35 minutes
Total time: 60 minutes
I had scouted the 160 acres of public land for weeks, and I knew exactly where the deer were hanging out. That November morning in western North Dakota was cool and crisp, with just a hint of frost on the ground. As the sun began to rise, I drank the last few drops of my truck stop coffee and stepped out of the pickup with my rifle in hand.
I descended down the ridge into the river valley and immediately found passageways all throughout the tall grass. These escape routes for all of the animals that inhabit this place head in every direction, weaving a web that us humans could never understand. After a few tense moments, a mule deer doe jumped up and bounded about 50 yards before stopping and looking back at me. I took a deep breath, aimed, squeezed the trigger, and the rifle roared to life.
Hunting stories like this always flood my mind when I stare down at all the packages of ground venison in my freezer. My 7-year-old daughter and I could eat grilled venison burgers every day of the week, but my wife is sick of them at this point. These savory ground venison empanadas were just the right answer to satisfy her appetite for something new! The flaky pastry dough filled with seasoned ground venison and potatoes is the perfect combination of crispy and chewy textures. And to take it to the next level, I serve it with a homemade Aji Verde sauce that adds a tangy and slightly spicy kick. These ground venison empanadas are not only delicious, but also perfect for a party or a quick meal. They are a must-try for anyone looking to transform their wild game into something special to share with family and friends.


Empanada Dough Ingredients
1 1/2 cups precooked polenta yellow cornmeal

1/4 teaspoon salt

1 Tablespoon

Sazon Goya

seasoning

1 Tablespoon vegetable oil

2 cups water
Empanada Filling Ingredients
2 cups peeled and diced potatoes

2 Tablespoons olive oil

1 pound ground venison

1 large yellow onion, diced

1 bell pepper, diced

2 Tablespoons minced garlic

1/2 teaspoon salt

1/4 teaspoon black pepper

1 Tablespoon Sazon Goya seasoning

Oil or shortening, for frying

1 lime, cut into wedges
Aji Verde Ingredients
3/4 cup Mayonnaise

1/4 cup olive oil

2 cups fresh cilantro leaves

1/4 cup grated Parmesan cheese

1 Tablespoon minced garlic

1 jalapeno, seeded and chopped

1 teaspoon fresh lime juice

1/4 teaspoon salt

1/4 teaspoon black pepper
Empanada Dough Instructions
Place the polenta cornmeal in a large bowl. Add the salt and

Sazon Goya

seasoning and stir to combine well.

Add the oil and water and mix to form dough. Form the dough into a ball and knead with your hands for about 2 minutes. Cover with plastic wrap and set aside while you make the filling.
Empanada Filling Instructions
Put the potatoes in a large pot and cover with cold water. Generously salt the water and bring to a boil over high heat. Lower the heat to medium and gently simmer until the potatoes are tender when pierced with the tip of a knife, about 25 minutes. 

Meanwhile, heat the olive oil in a large skillet over medium-high heat. When the oil is hot, add the ground venison, onion, bell pepper, and garlic. Season with salt, pepper, and

Sazon Goya

.

Cook, crumbling the venison as you go, until cooked through, 6 to 8 minutes.

Drain the potatoes and return them to the pot. Mash the potatoes well with a potato masher.

Transfer the meat mixture to the mashed potatoes and mix well to combine.

Take small portions of the empanada dough, about 2 Tablespoons each, and form each portion into a ball by rolling between the palms of your hands. 

Place the balls of dough between two gallon-size Ziploc bags and press down on the dough with the bottom of a pie pan to form a 1/4-inch thick circle. 

Remove the top Ziploc bag and place 1 Tablespoon of the meat filling in the center.

Then using the bottom Ziploc bag, fold the dough over to enclose the filling, forming a half circle. Tightly seal the edges by pressing down with your fingers, or use a fork. Repeat the process with the remaining dough and meat filling. You can refrigerate the uncooked empanadas for up to 3 hours.

Heat the oil in a deep fryer to 350 degrees F. Fry the empanadas until golden brown, about 7 minutes. 

Use a slotted spoon to transfer the empanadas to a wire rack or paper towel-lined plate. Serve with the Aji Verde with lime wedges on the side.
Aji Verde Instructions
In a food processor or blender, combine all the ingredients. Blend until sauce is green and smooth.

The Aji Verde sauce will keep well in the refrigerator, covered, for up to 4 days.