Elevate your cooking skills with Venison Carne Guisada - Wild Game Wednesday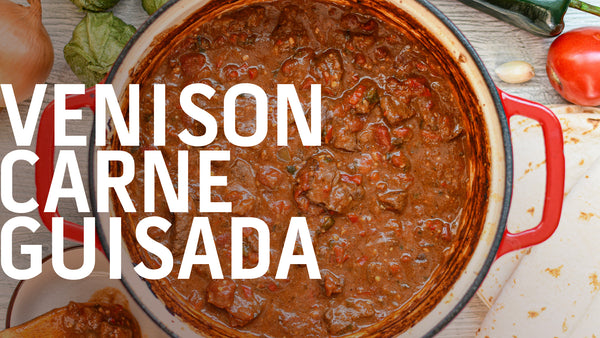 By Jeff Benda
Instagram
www.WildGameandFish.com
Prep time: 15 minutes
Cook time: 1 hour and 10 minutes
Serves: 10
This easy Venison Carne Guisada recipe is a great way to use some of that stew meat you have in your freezer. Carne means "meat" in Spanish and Carne Guisada means "stewed meat". The chunks of venison are simmered in a fragrant brown gravy until tender. This recipe is a comforting, filling, flavorful dinner that the whole family will love. It's traditionally served with tortillas, rice and beans. Our 7-year-old daughter piled some of the mixture into a flour tortilla, topped it with shredded cheese, and ate it like a taco.
I was inspired to make this Tex Mex style dish after I was invited down to Texas Hill Country just west of San Antonio to teach a deer butchering and cooking class for a group of ladies attending the She Hunts Skills Camp.
Gina Batie from South Dakota harvested a nice Axis deer and we used the Outdoor Edge WildSkin and RazorCape to make quick work of getting the hide off. The rest of the butchering was done with my favorite knife - the RazorPro.
I got my start in the restaurant business working at a few different Mexican restaurants, and Tex Mex is one of my favorite cuisines of all time. I used a Sirloin Tip Roast to create this dish because we're slowly cooking it so it has time to become fork tender and delicious. Any venison top round or bottom round roast would also work well for this recipe.
I used just one poblano pepper along with a bell pepper because poblanos aren't as spicy as some other varieties, and I wanted to make sure the dish wouldn't be too hot for my wife and daughter to enjoy. The fact that they both asked for seconds at supper, and then packed the leftovers for lunch the next day, is a good indication that I got the heat level at a tasty and manageable level.
Ingredients
2 pounds venison roast
2 1/2 teaspoons salt
2 Tablespoons canola oil
1 large yellow onion, chopped
1 medium poblano pepper, seeded and chopped
1 red bell pepper, seeded and chopped
2 Tablespoons minced garlic
2 Tablespoons tomato paste
1/2 teaspoon black pepper
2 teaspoons ground cumin
1/4 teaspoon Chili powder
2 Roma tomatoes, chopped
2 tomatillos, chopped
1 cup venison or beef broth
Instructions
Preheat oven to 350 degrees F.
Trim any silver skin from venison roast and discard, then cut the roast into 3/4-inch cubes.
Season the meat with 2 teaspoons of the salt, reserving the other 1/2 teaspoon for later.
Heat canola oil in a 5-quart or larger Dutch oven.
Add venison and sauté for 2 minutes, stirring often. Using a slotted spoon, transfer the meat to a plate.
In the same Dutch oven add the onion, peppers, garlic, tomato paste, black pepper, cumin, and chili powder and sauté for about 3 minutes, stirring often.
Stir in tomatoes and tomatillos and sauté for another 3 minutes.
Return the venison to the pot, add the broth and remaining 1/2 teaspoon of salt, and stir to combine well.
Place the lid on the Dutch oven and place in the oven for about 1 hour until the meat is tender and the sauce has thickened.
Serve as a stew or with tortillas and your favorite taco toppings.