Axis Deer Stroganoff: A Wild Game Delight - Wild Game Wednesday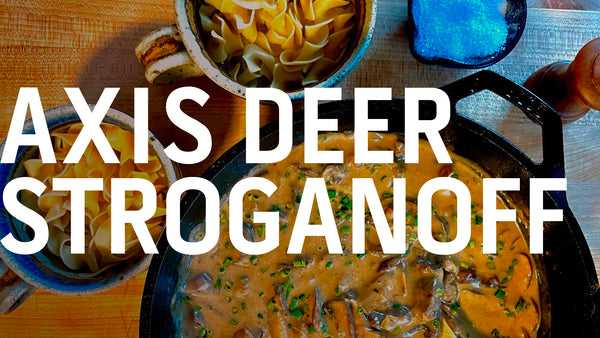 RIKKIE FOLGER
Instagram: @wild_and_foraged_
Website: Wildandforaged.com
Servings: 4
Time to Make: 60 minutes
Special Equipment: Large Cast Iron Pot or Dutch Oven
This is the perfect recipe to add to your weeknight rotation. It is so easy to make, it's filling, but most of all, it is absolutely delicious! The flavor of venison pairs so well with seared mushrooms, and the sour cream adds the perfect amount of tang. You can keep leftovers in the fridge for up to 4 days, but I doubt there will be any left to save!
This recipe is traditionally served over egg noodles, but you can use rice, mashed potatoes or even polenta! If you do not have venison stock, beef stock works just as well. I used shitake mushrooms, but any mushroom will do. Don't have Axis? You can use any type of venison or red meat.
 INGREDIENTS
1 pound venison steak, thinly sliced
2 tablespoons avocado oil
1 yellow onion, diced
1 pound fresh shitake mushrooms, sliced
2 cloves garlic, minced
3 tablespoons flour
3 cups venison or beef stock
2/3 cup sour cream
1 tablespoon kosher salt
2 teaspoons ground black pepper
1 pound egg noodles, cooked
Chives for garnish 
INSTRUCTIONS
Slice venison steak in to thin, bite size strips. Season generously with kosher salt.
Heat avocado oil in a large cast iron pot over medium high heat.
Sear venison strips on each side for 30 seconds and transfer to a plate. The trick is to cook the venison in small batches to get a good sear.
Turn heat down to medium and add diced onions to the same pot. Cook for 5 minutes, until translucent.
Add sliced mushrooms and cook until golden brown, stirring occasionally. 
Sprinkle flour on top of the mushroom and onions, stir well and cook for 1 minute.
Add half of the venison stock and mix well. Slowly add the rest of the stock while stirring.
Add seared venison to the pot, bring to a boil and reduce to a simmer. Cook for 5 minutes.
Turn off the stove and add sour cream. Mix well.
Serve over warm egg noodles and garnish with chives.