Savor the Flavor: Slow Cooker Antelope Bahn Mi Sandwiches - Wild Game Wednesday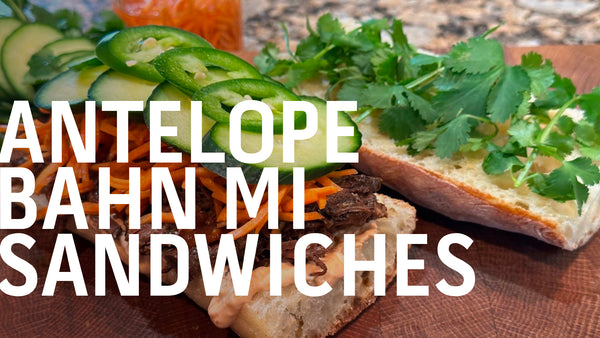 By Chef Jaime Teigen
Instagram: @chef_jaimeteigen
Website: www.mountainpinescatering.com
Servings: 6
Prep Time: 15 minutes
Cook Time: 5 hours
After 15 years of hunting, Antelope was never on the tag list. In 2020, I harvested my first Antelope. Now, it's my favorite animal to hunt and eat. The uniqueness and flavor of this animal surprises me every time I cook it.
This recipe only shows one of the many ways Antelope can be made. I love a flavorful, hearty, and saucy sandwich. If there is sauce all over my face while eating a sandwich or a burger, you've made me one happy lady. This sandwich is spicy and bright when you bite into it. The juice from the slow cooked Antelope, and the Sriracha mayo is a perfect touch to the brightness of the pickled carrots, the crunchy cucumbers, jalapenos, and fresh cilantro leaves to top it off. I hope you enjoy this great sandwich as much as I do, and don't be afraid to get a little sauce on your face. Enjoy!
INGREDIENTS
For the Antelope:

2 pounds Antelope roast
1 teaspoon salt
1/2 teaspoon black pepper
1 tablespoon olive oil
1 jalapeno, diced
1 (2-inch) slice ginger
8 garlic cloves, minced
3/4 cup soy sauce
1/4 cup white vinegar
1/2 cup brown sugar
For the pickled carrots
1/2 cup distilled white vinegar
1/2 cup granulated sugar
1/2 teaspoon kosher salt
1 1/2 cups coarsely shredded carrots
For Sriracha Mayo
1/2 cup mayo
2 teaspoon Sriracha
For the sandwiches:

pickled carrots (see above)
2 long baguettes cut in thirds, or 6 small rolls split lengthwise
1/2 cup mayonnaise
2 teaspoons Sriracha + more for drizzle at the end
1 English cucumber thinly sliced
1 jalapeno thinly sliced
1 cup fresh cilantro leaves
INSTRUCTIONS
Slow Cooker Instructions
Remove any silver skin from the Antelope roast and pat dry. Season the Antelope with salt and pepper on all sides. In a separate pan, add the olive oil and brown the Antelope on all sides.
In the insert of a slow cooker, stir together the jalapeno, ginger, garlic, soy sauce, vinegar, and brown sugar. Nestle the roast in the liquid. Cover and cook on low for 6-8 hours or high for 4-5 hours, until the Antelope is very tender. Shred the meat in the slow cooker, so it can soak up some of the juice.
Pickled Carrots Instructions
In a medium bowl, combine the vinegar, sugar and salt and stir until dissolved. Add the carrots and let it sit for about 30 minutes. Drain well and refrigerate until ready to use.
Sriracha Mayo Instructions
In a small bowl, mix the Sriracha and the mayo together until well combined. Refrigerate until ready to use.
Assemble the Sandwiches
To assemble the sandwiches, slice the baguettes or rolls in half lengthwise. Spread a layer of Sriracha mayo on the bottom half. Top with some of the pulled Antelope, drizzle with Sriracha, then top with pickled carrots, cucumber, sliced jalapenos and cilantro leaves. Close up the sandwiches and enjoy!