Bear Hunting and the Bounty of a Successful Hunt by Hank Tassitano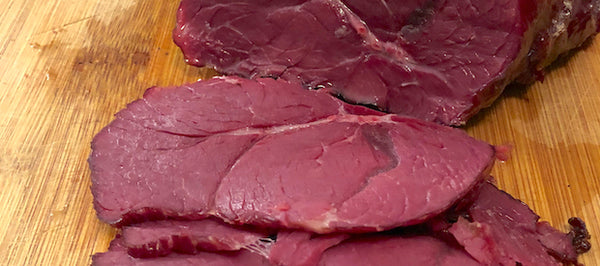 This week's insight brought to you by:
Hank Tassitano
Bear hunting in Virginia is open to hunters during archery, muzzleloader, and gun season. Traditionally during gun season bears are hunted in the rugged mountains of Virginia over a pack of bear hounds. The chase can cover miles before coming too and end and can be a real workout for the hunters.
A good buddy of mine Chris Britten hunted with a group of friends last fall and had an exciting hunt over a pack of hounds which ended with Chris taking a very nice bear. The RazorMax knife made quick work of field dressing the bear for the long drag out. 
After getting the bear meat processed and splitting it up with friends he had plenty of meat in his freezer. I had never cooked or eaten bear meat before so Chris gave me some to try. I spoke with a couple of guys that I know that have cooked bear meat and recommended bear stew or roast because that is all they made with it. 
I wanted to try some different things with it and so did Chris. He decided on making bear meat summer sausage. Using a Hi Mountain Summer Sausage he went to work. The outcome was delicious so it got me thinking about what I would make first.
I decided on a bear ham recipe that I use on deer roast that comes out awesome. I use Hi Mountain's Buck Board Bacon Cure Kit to cure the roast. After curing the bear roast gets smoked until it reaches165 degrees internal temperature. During the smoking process the ham gets glazed with a mixture of maple syrup and brown sugar a few times. 
After removing the ham from the smoker and letting it rest for 30 minutes, I sliced it up for some taste testing! OMG was this good. I had heard with bear meat either you like or don't, well this was not just a LIKE but a GREAT! 
Ingredients
3 to 4 lb. boneless bear roast
Hi Mountain Buckboard Bacon Cure Kit
1/2 cup brown sugar
1/2 cup maple syrup
Directions
Curing
Place the bear roast in a non-metallic bowl and follow the instructions included with the Hi Mountain Buckboard Bacon Cure Kit. Make sure to weigh the bear roast so you know exactly how much cure is required.
Apply the cure to the bear roast, making sure it's completely covered. 
Cover the bowl with plastic wrap or a tight fitting lid and refrigerate for 12 days. Turn the roast over after 6 days.
Smoking
After the curing process is complete, rinse all the cure off the bear roast.
Immerse the bear roast in a water bath for 2 hours.
Rinse the bear roast one more time to make sure the last bit of cure has been removed. 
Pat the bear roast dry and let stand at room temperature while you heat your pellet grill or smoker to 200F degrees.
Mix together the brown sugar and maple syrup in a bowl. It will be a thick liquid mix that will be used to glaze the ham during the smoking process. 
Once the temperature of 200F has been reached, place the bear roast on the grill.
Apply the glaze every 30 minutes. Make sure to turn the ham a couple times during the smoking process so you can cover the entire ham with glaze.
Continue cooking until the internal temperature of the ham reaches 165F degrees, then remove it from smoker. 
Let your bear ham rest at least 30 min before slicing.
Note: Use a meat thermometer to make sure the internal cooking temperature has reached 165F to avoid trichinosis.
The fun has just started, and bear snack sticks were on the menu to be made next. I used the Hi Mountain Pepperoni Snack stick kit. When making snack sticks it's important to make small batches first to determine the right amount of seasoning. The instructions that come with the kits is a great starting point. You can add more or less depending on your taste or you might like the amount recommended. I add just a little more seasoning and to get some heat I add some red pepper flakes. 
The bottom line is not only is bear meat good but think outside the box on what to make with this meat. The same goes for all wild game meat don't be afraid to try something new! Best of luck this fall!
You can shop the full line of Hi Mtn Seasonings here.
About Hank
Hunting and fishing has been a passion for most of my life. I was born in the north east where I learned to hunt and fish. Thirty years ago I moved my family to Virginia to get away from working in Manhattan. I found Virginia offers great hunting and fishing and I get to fill my freezer with plenty of fish and game. I also love cooking wild game and fish and like to play around with different recipes. This bear recipe is one of the recipes I came up with and hope others will enjoy it as much as we did.