Confit Duck Sando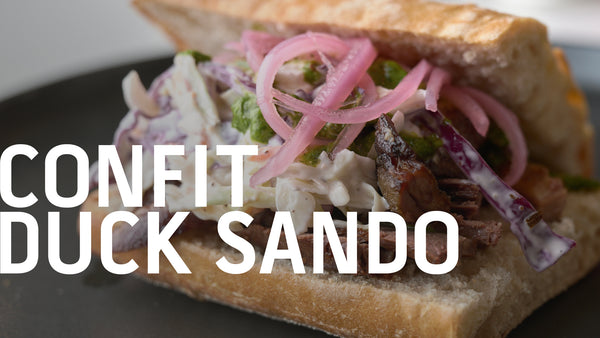 By Chris Whonsetler 
Instagram: @fromfieldtotable
Servings: 2 sandwiches
Prep time: 2 hours
Cook time: 24 hours
Before we begin, if you do not pluck and keep your duck skin on l highly recommend it. There is tremendous flavor in the skin/fat and is imperative for this recipe. You can sub with other fat if you must or add after-market duck fat if you don't have the skin & fat in your processed ducks. This is a long cook! Spoiler alert: the legs will cook for 24 hours so plan ahead. Onward.
I'll be honest, it's really hard not to sear all of my duck breasts in a cast iron pan & eat with a sweet fruit chutney. However, diversity is good and trying out different presentations can be a welcome change. This dish is just that, packed with an insane amount of flavor (maybe too much?). This sandwich will give you something to write home about. It might be too complicated and over produced, but it was fun to make and tasted great!
Special equipment:
Sous vide cooker
Vacuum sealer
Food processor
INGREDIENTS
Duck Ingredients
Skin on breast and legs from 1 Duck, the fattier the better
4 sprigs rosemary
Bread, I used a demi french baguette, but use what you like
Duck Fat or oil of your choose for searing the duck
Cilantro Vinaigrette Ingredients
1 bunch fresh cilantro
1/2 cup olive oil
tablespoons white vinegar
1 clove garlic
Red pepper flakes to taste (optional)
Salt & pepper to taste
Spicy Slaw Ingredients
1 head of cabbage (I used half purple cabbage and half green) bagged slaw mix also works great
1-2 large carrots thinly sliced (optional)
1 cup mayonnaise
2 tablespoons apple cider vinegar
Salt & pepper to taste
Dried habanero to taste (Optional)
INSTRUCTIONS

Separate the duck breast from the legs and let air dry in the fridge on a paper towel for a couple hours to draw out any remaining blood.
Get the sous vide cooker up and running per manufacturer specifications. Set to 150º. Place legs into a vac bag with 2 sprigs rosemary, seal and throw into the sous vide bath for 24 hours.
While the duck legs cook, we can prep the toppings, starting with the cilantro vinaigrette. Throw the entire bunch of cilantro into your food processor (I use the stems if they are good & fresh). Crush the garlic and add to the food processor and pulse for a few seconds. While pulsing slowly add the olive oil. Taste the mixture and slowly add the salt, pepper and red pepper until you are happy. Transfer to an airtight vessel (I like these condiment squeeze bottles) and refrigerate.
Grab your cabbage (or place slaw mix in a large bowl), quarter the head and cut out the core. Chop thinly and add to a large bowl along with the carrots if included. In a second bowl mix the mayo & vinegar. Slowly add salt & pepper until you are happy. If desired add the habanero to taste. Personally, the flavor of habanero is phenomenal with the slaw. You will want to add more than you think, the mayo cancels out some of the spice, but still add it slow! When your wet mixture is right, slowly add it to the cabbage until it's as saturated as you like. I think the above ratio was perfect, but you might like it a bit more dry. To make it more wet obviously remove some cabbage or increase the mayo/vinegar. Refrigerate in a covered container until ready to use.
With 6 hours left on the legs repeat packaging process on the breasts and add to the sous vide bath.
WARNING if you are unfamiliar with sous vide, the duck will smell amazing but look like sin when you pull it out of the bag. If the liquid in the bag has turned dark with myoglobin ('blood') I would discard it, but if it's a golden yellow that is amazing fat you should use to finish the duck!
Prep a skillet, add your fat or oil (enough to cover the skillet surface, but not super deep) and get it hot, not quite deep fry hot, but pretty hot. The duck is plenty cooked at this point, so we are just looking to crisp up both sides of the breast & legs. At this point the leg bones pretty much pull out super easy. Make sure to get all the bone fragments out of the meat and dice up.
Here is where you will use your judgement. Grab your plate, bread and toppings. Personally, I would add 2/3 of the meat to my bread, as much slaw as I feel and a healthy drizzle with the vinaigrette.

 

I had some pickled onions in the fridge and I threw those on last minute as well. Like I mentioned earlier, it's a TON of flavors duking it out in your mouth. It might be a bit much, but I'm into this kind of thing. Add or subtract what you want and let me know how you tweak it!