Lip Smacking Smoked Bear Ribs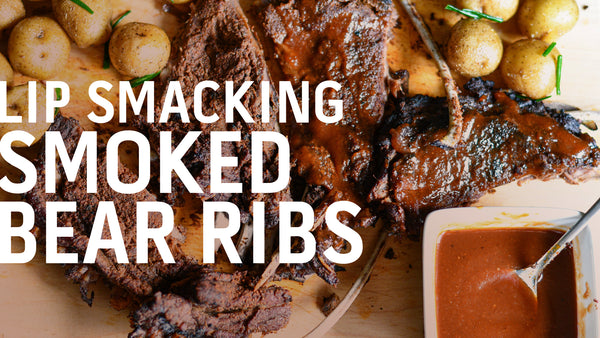 By Jeff Benda
Instagram
www.WildGameandFish.com
Prep time: 15 minutes
Cook time: 2 hours 45 minutes
Total time: 3 hours
Servings: 2
The hardest part about both bear hunting and smoking ribs is patience! A bear hunt can take days or even weeks, but the wait can often be rewarded with about 100 pounds of delicious meat, including a couple racks of ribs.
I love pork ribs, but I also love these apple-scented bear ribs with their tender meat and a crackly, bark-like crust that reminds me of a great Southern barbecue. I start off with showering them with a sweet and smoky dry rub that packs a punch but wasn't too spicy for our 8-year-old daughter. Then I smoke them for a few hours while enjoying a beautiful afternoon in the backyard with the family.
They are a perfect way to celebrate the end of summer and the beginning of another hunting season. So, get ready to fire up the grill and impress your family and friends with these mouth-watering and lip-smacking smoked bear ribs!
Bear Rib Ingredients
1 1/2 pounds rack of bear ribs
1/2 cup apple juice
1 cup your favorite BBQ sauce
Dry Rub Ingredients
1 teaspoon salt
2 tablespoons brown sugar
2 teaspoons smoked paprika
2 teaspoons ground cumin
1/2 teaspoon onion powder
1/2 teaspoon garlic powder
1/2 teaspoon ground mustard
1/2 teaspoon celery salt
1/2 teaspoon black pepper
Instructions
Preheat the grill for indirect cooking at 250 degrees F using your favorite flavor of wood chips. I used apple flavor wood chips. Rinse bear ribs under cool water and pat dry.
Pull membrane from bone side of bear ribs. The membrane is primarily composed of elastin, not collagen. The elastin will not dissolve while cooking. To remove membrane, insert the tip of your finger under membrane in the middle of the rack. With fingers, work a section loose. Grip membrane with paper towel and peel off.
Make the rub. Put all of the dry rub ingredients into a small bowl and mix well to combine. Apply the dry rub to all sides of ribs.
Place the ribs in your smoker for about 2 hours.
Every 30 minutes spritz the ribs with apple juice.
Spot-check the internal temperature in multiple areas with an instant-read meat thermometer to verify that 165 degrees F is the lowest temperature in the ribs so it's safe for consumption. When the ribs reach 165 degrees F, remove them from the smoker for wrapping.
Lay out two layers of heavy-duty aluminum foil that is 2 1/2 times the length of the ribs. Fold over to create 2 layers. Place ribs on foil meat side down. Pour 1/4 cup apple juice over ribs. Seal foil package tightly to ensure juices stay in.
Return ribs to smoker making sure they are bone side down and smoke for 30 minutes.
CAREFULLY take ribs out of foil and place them on a baking sheet, discarding the juices. Brush each side of ribs with your favorite BBQ sauce. Increase grill to 300 degrees F, then return ribs to grill directly on heat and cook another 5 minutes on each side to set sauce and caramelize the sugars.
Take ribs off and let them rest for 10 minutes before slicing and serving.