Venison Shank Pockets with Chris Whonsetler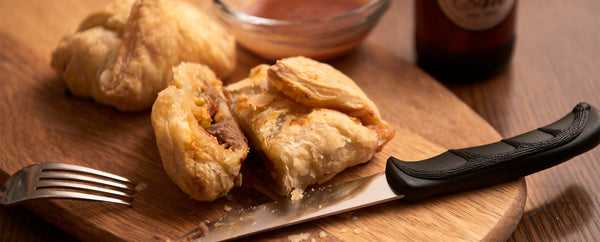 This week's recipe brought to you by Chris Whonsetler
Venison Shank Wild Game Pockets
Shanks are unfortunately one of the elements of a recovered animal that are left to the coyotes. They are cumbersome to work with, full of tendons, not a significant source of meat (compared to the rest of the animal), but are packed full of flavor & not that tricky to utilize in the kitchen! After you braise the shanks the pockets only take 30 min or so to prep & cook. A nice fast easy meal you can whip together at a moments notice!
Ingredients - measurements are flexible, add more or less to suit your taste buds):
Shank Braising:
Venison Shanks
Sesame oil
Red Wine to cover 50% of shanks
Stock (I used beef, but any flavor will work) to cover 50% of shanks
Small onion
3 garlic cloves
3 bay leaves
Pockets: (Really anything you like the taste of ! But here is a list of what I used) Red pepper
Red onion
Jalapeño
Gouda Cheese
Montana Mex Sweet & Spicy Habañero Sauce
Puff Pastry
Directions: This recipe starts with breaking down the shanks in a crock pot or dutch oven. Odds are if you break down 4 shanks like I did you will have a lot of extra meat you can freeze and safe for another meal. To start the braising process you will want your shanks fully thawed and dry. I like to do this on a drying rack in the fridge to keep good air circulation around the meat and to keep any liquids dripping of and not touching the shanks as they thaw/dry. When you are ready to begin heat up a cast iron griddle or a skillet if you have one large enough to work with the shanks (you could also cut the shanks in half, but working with the meat attached too the bone is a bit easier and cooks better in my opinion). Heat up some sesame oil and brown your shanks. I like sesame oil because it has a super high smoke point compared to most other oils and adds a nice fragrance & flavor to the shanks.
Once shanks are browned it's time to add them to the crock pot. On top of the shanks I add some fresh ground black pepper and cover them with red wine & stock and cover with the lid. If you are starting this meal before you head to work in the morning you can set the crock pot to low and let them cook all day or if you are wanting to eat in a few hrs you can set it to high. Pull from the crockpot when the meat pulls easily from the bone, let cool a bit and shred the shank meat.
30 minutes before you want to eat preheat your oven to the puff pastry directions temp, dice up your vegetables, shred the cheese and cut up the puff pastry to your desired size. I cut up each pastry sheet into 4 small pieces to make up a bunch of different flavor combinations. Lay out your pastry sheet, load with plenty of venison, vegetables and cheese, add a splash of your bbq sauce, cover and pinch shut. I recommend keeping the vegetables on the light side, if you add too many you run the risk of the pocket getting too wet as they cook giving you a soggy bottom! When your pockets are finished throw them in the oven and cook until golden brown. Mine took a few minutes longer than the puff pastry cooking directions.
Pair your pockets with a hearty brown ale, a side of extra bbq sauce and dig in! If you are better at planning ahead adding some horseradish coleslaw as a side would be outstanding!
Hot Tip: This recipe is also phenomenal with squirrel, rabbit, or goose legs. Just skin and cook them whole exactly like you would the shanks described above!