Venison Biscuits and Gravy with Annie Weisz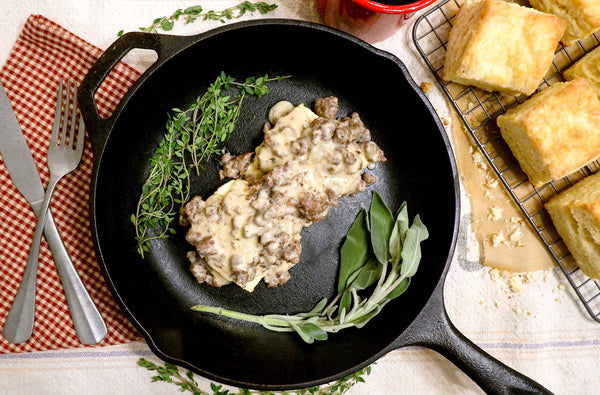 This week's recipe brought to you by:
Annie Weisz with Peak to Plate
www.instagram.com/peak.to.plate/
www.peaktoplate.com
When I think of comfort food, this recipe always comes to mind. There's nothing more satisfying than a warm plate of homemade biscuits and gravy. This recipe starts with fluffy buttermilk biscuits and gets topped with sweet and savory breakfast sausage nestled in a creamy country gravy. It's comforting, flavorful, and a little bit indulgent but so worth every delicious bite.
Buttermilk Biscuits:
It's taken me a while to perfect my biscuit recipe but it was sure worth the wait. These fluffy little things are the perfect texture and melt-in-your-mouth good. The key is to use a good butter, use buttermilk for the liquid, don't overwork the dough, and fold it a few times to get those perfect, fluffy layers. I like to cut mine into squares to minimize waste. See my biscuit recipe for detailed steps. 


Homemade Breakfast Sausage:
When it comes to ground meat, I like to start with a blank slate. I grind 100% meat, then freeze it as is without adding any fat or seasoning. There's nothing worse than wanting to make a burger and only having Italian sausage (or something else) left in the freezer. When I do decide to make sausage, I mix in the seasonings and let it sit for at least a couple hours or overnight to let the flavors meld. I like to make a large batch of the sausage seasoning (without maple syrup) and keep it on hand to speed things up a bit. To get those perfect crispy sausage bits, I cook the meat in some lard in a cast iron pan. Spreading the sausage out in the pan and letting it get good and crispy on the bottom before flipping it is the key to developing that delicious caramelized flavor. 


Gravy:
The gravy is very simple to make. Start with fat leftover from the meat or add butter to the pan. Let it melt and add some flour to the pan. Whisk in the flour and let it get good and bubbly with a golden brown color. Add in some milk, bring it to a simmer, and let it thicken for a couple minutes. Add the sausage back in, heat it up, and it's ready to go. Make sure your biscuits are nice and warm, then lather 'em up with that gravy. Enjoy!
Venison Biscuits and Gravy Recipe
Prep Time: 25 mins
Cook Time: 30 mins
Ingredients
Venison Breakfast Sausage:
1 lb ground venison (or any other ground meat)
1 tbsp dried sage
1 tsp dried thyme
1 tsp ground fennel
1 tsp dried marjoram
1 tsp salt
½ tsp black pepper
½ tsp red pepper flakes
½ tsp paprika
1 pinch ground cloves
2 tbsp maple syrup
Buttermilk Biscuits:
2 ¾ cups all-purpose flour
1 tbsp baking powder
1 tbsp sugar
¾ tsp salt
8 tbsp salted butter, cut into ½" cubes
1 ¼ cups buttermilk
Sausage Gravy:
1 lb venison breakfast sausage (from above)
3 tbsp lard (less if your sausage already has fat mixed in)
3 tbsp butter (less if you have fat left in the pan after cooking sausage)
3 tbsp all-purpose flour
3 cups milk
salt and pepper, to taste
Instructions:
Venison Breakfast Sausage:
Combine all ingredients except venison and maple syrup in a medium bowl. Add in ground venison and maple syrup. Mix together with your hands until spice mixture is well-distributed in the meat. Cover bowl and refrigerate for at least a couple of hours, preferably overnight.
Buttermilk Biscuits:
Preheat oven to 425°F.
Combine dry ingredients in a medium bowl.
Add in butter cubes. Use your hands to squish the butter into flat pieces in the flour mixture. Once all butter pieces are flattened, use pastry blender to incorporate butter into flour mixture. Continue blending until all butter pieces are pea-sized or smaller.
Add in buttermilk. Mix by hand until a soft dough forms.
Place dough onto lightly floured surface. Roll into a ½" thick rectangle.
Fold dough into thirds, then roll out into a longer ½" thick rectangle.
Fold dough into thirds again, starting on the short ends. This will make a rough square.
Use a dough cutter or sharp knife to trim the very edges of the square. This helps expose the layers inside and ensures all your biscuits rise evenly.
Cut square into 9 equal squares. Place on parchment paper-lined baking sheet. Bake for approximately 15 minutes or until lightly browned. Brush tops with melted butter, if desired. Serve warm.
Sausage Gravy:
Heat cast iron pan over medium-high heat. I use a 12" pan to fit all of the gravy.
Add lard to pan and heat until melted. Add in breakfast sausage. Break up meat until it makes a layer on the bottom of the pan. Let it cook for a while (3-5 minutes) before stirring or flipping it.
Once the bottom layer of meat has a nice crisp to it, flip the meat and redistribute in the pan. Continue cooking until all meat is browned, about 5 minutes longer.
Remove cooked sausage to a plate. Reduce heat to medium-low. If there is grease left in the pan, you can use less butter for the gravy. You need about 3 tbsp of fat total. Add butter to pan if needed and cook until melted.
Add in flour, salt, and pepper and whisk them into the melted butter. Cook until brown and bubbly, about 2 minutes. Stir frequently.
Add milk to pan and bring to a boil. Cook until thickened and reduced a bit, about 3-5 minutes. Stir frequently. It may not thicken as much as you expect but it will thicken as it cools.
Add sausage back into gravy and continue cooking until heated through. Serve over warm biscuit halves.