Szechuan Venison Kebabs with Chris Whonsetler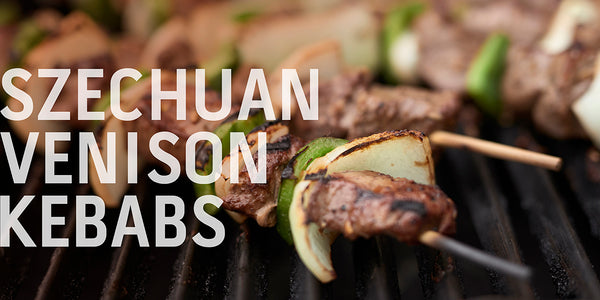 This week's recipe brought to you by Chris Whonsetler



Journal Entry 2: Adding a Zip to the Kitchen Rut If you are an average Joe, not a chef, like me you may find yourself in a bit of a kitchen rut. You cook the same thing over and over because you know you have the ingredients on hand, you know you can do it and most importantly you know you like it. If this is you I'm challenging you break the mold with this one. Get out of your comfort zone, buy some strange ingredients and take a chance! You can easily scale things down if you are nervous about trying something new and a bit different and do not necessary want to use a whole cut of precious venison on a new recipe.
Szechuan Venison is where I landed when I wanted to break out of my kitchen rut. There are a thousand recipes online for all things Szechuan, so I picked and chose the best of a few of them and came out with this recipe. Partly based on what I had in the kitchen, partially because I know my wife will not eat things that are as spicy as I might make them if I were only cooking for myself. Now for a note on Szechuan peppercorns. They are STRANGE. They literally make mouth tingle and if you have too much it might go a bit numb! So until you are familiar with this spice take it easy and go on the side of not as much. Like salt, you can always add more later on, but it's damn near impossible to take it out. Its a wild experience that I am in love with! I bought this bag via Amazon and have been loving throwing them into random recipes for a little change of pace to the same old. Spoiler alert, I added a bit of extra ground Szechuan to my dish and loved it, but my wife thought I added too much to begin with. Baby steps if you have never worked with Szechuan.
Below is what I used in my recipe. There are a lot of changes I would like to make in future variants of the recipe, like using doubanjiang, hoisin sauce, and sambal oelek. Authentic SZECHUAN VENISON KEBABS 1 ingredients that you may not be able to find at your big box grocery store on a whim. I thought the final outcome was fantastic and am very excited to give it another go in the future!
Ingredients:
Kebabs:
1 lb Venison
1 bell pepper
1/2 onion
1 cup rice
Marinade:
2 tbsp. Chinese black vinegar
1/4 c. low-sodium soy sauce
1 tbsp. toasted sesame oil
1 tsp. granulated sugar
2 cloves garlic, grated
2 tsp. freshly grated ginger
1/4 tsp. freshly ground black pepper
1/2 tsp. ground Szechuan peppercorn (or a bit less if you are new to Szechuan)
Topping/Side Mix:
3 tbsp. vegetable oil
4 oz water chestnut
2 cloves garlic, minced
3 green onions, thinly sliced, plus more for serving
2 small carrots, thinly sliced
1/2 c. low-sodium broth or water
1 tsp. toasted sesame oil
1 tsp. Chinese black vinegar
3 tsp. corn starch Sesame seeds, for garnish
Directions: Whisk all of the marinade ingredients with the exception of the venison in a medium bowl until well incorporated. The Szechuan peppercorns I bought were whole so I had to grab my mortar & pestle and grind them down. Cut up your venison into your preferred kebab sized cubes, I did about 1 inch. Place your venison cubes into a plastic bag, add 1/2 of the marinade, seal up and let out as much air as you can. Marinade in the refrigerator for an hour or 2 hours. Hindsight: I marinaded for 4 hours and it turned out ok, but a little too tender in my opinion. I'm honestly not sure if it was the vinegar in the marinade, aging for a few days before butchering, or aging in my fridge for a few days while defrosting (or a combination of all 3!). Once marinade has finished place the venison onto your kebab skewers with the bell pepper and onion. Place in the refrigerator until you are ready to throw on the grill.
Cook rice per package instructions.
For the side mix heat up the oil in a skillet, throw in the vegetables (bonus points if ingredients come from your garden!) and cook until fragrant. Add the broth, the other 1/2 of the marinade to the skillet. Once incorporated slowly sprinkle in the corn starch to thicken up the mixture. 
While the side mix is thickening up grill your kebabs on a direct high heat to your liking. 2-3 min on each side should be plenty for a medium rare. Hot Tip: if you like your vegetables cooked well and not a bit crispy like I do, separate your kebabs and cook only meat on one and only the vegetables on the other. Start with the vegetables and add your meat to the grill once your veggies are getting where you like them.
Recommended plating is a good helping of rice, layer a kebab, add a good helping of the side mix (on the side or on top, your call), sprinkle on some green onion and finish with a dusting of sesame seeds.
Devour.
For the Foolish: if you didn't hold back or didn't measure your Szechuan, about 5 bites in is when it hits your tongue and you get the tingles/numbing sensation! Hopefully you didn't put too much in!
For the Bold: add extra ground Szechuan if you held back earlier and it doesn't feel as zippy as you thought.