Pronghorn Steak & Peach Salad with Jeff Benda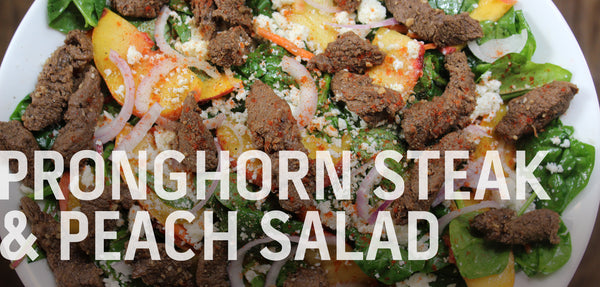 Jeff Benda
Instagram
www.WildGameandFish.com
 
My first pronghorn antelope was a buck taken in western North Dakota on Saturday, October 2, 2015. I remember it vividly. The buck was standing with a doe in a soybean field that had just been harvested. They were 320 yards away, which is not the best shot to take with a side wind gusting between 40 to 45 mph. But I killed him with one shot, got to him quickly, processed the meat, and immediately got it on ice. It was the weeks that followed when I decided antelope was my favorite of all wild game meats. Since that day, I have helped hunt, process, and prepare 18 of these animals for people to enjoy around the dinner table. This is a perfect dish for a quick and healthy weeknight meal the entire family can enjoy. 
INGREDIENTS
1 pound antelope (or deer) steak, trimmed of silver skin and cut into 2-inch strips. 
2 Tablespoons balsamic vinegar 
2 Tablespoons soy sauce 
1 Tablespoon Worcestershire sauce 
1 Tablespoon brown sugar 
1 Tablespoon minced garlic 
1 teaspoon each salt & pepper 
5 cups packed fresh spinach, arugula, or similar mixed greens 
1 large or 2 medium fresh peaches, pitted and thinly sliced with a serrated knife 
3 Tablespoons olive oil 
1 Tablespoon lemon juice 
½ cup feta or queso fresco cheese 
½ red onion, sliced (optional) 
DIRECTIONS
1. Whisk together balsamic vinegar, soy sauce, Worcestershire, brown sugar, minced garlic, salt & pepper in a bowl until well blended. Add antelope steak and toss well. Let sit at room temperature for 20 minutes. 
2. Heat cast iron skillet to high. Remove steak from marinade and add to hot skillet. Cook, stirring constantly for 3 minutes. Remove pan from heat and let sit about 10 minutes while you prepare the salad. Taste the steak and add more salt & pepper if you prefer. 
3. For the salad: in a large bowl, add the spinach, sliced peaches, olive oil and lemon juice. Toss to combine. 
4. Heap the salad on a serving platter or divide on individual plates. Add the cooked steak on top. Sprinkle with the cheese and red onion. Serve immediately.