Doubling up for Dove Season with Chris Whonsetler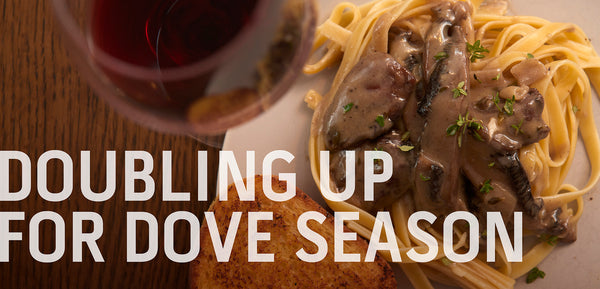 This week's recipe brought to you by Chris Whonsetler
Dove Marsala
Something that isn't a jalapeño popper.
Let's get serious. Just about the first thing to pop into our minds when we think of dove season is jalapeño poppers! They are phenomenal. But just about anything wrapped in bacon and cream cheese then stuffed into a pepper will taste good. Its time to treat yourself (more importantly your loved ones) and make something a bit fancier than an appetizer you inhale watching the game. Totally optional but I feel like this dish almost requires a candle lit atmosphere, a fresh bouquet of flowers and your Sunday best! If you are going to treat yourself you might as well go all the way. Pro tip: wear an apron, no one likes a tie that has butter spattered on it. Plus its classy as hell to cook in a suit! 
Ingredients: 
Measurements are flexible, add more or less to suit your taste buds): 
1 dozen dove breast (six dove)

 

2-3 tbs flour

 

2 tsp black pepper

 

4 tbs butter

 

1 cup mushroom (I used thick sliced portabella)

 

1 medium shallot

 

3 cloves garlic

 

2/3 cup marsala cooking wine

 

2/3 pint heavy cream 2
/3 cup stock (I used stock I made from my spring turkey)

 

3 sprigs of fresh thyme

 

Handful of Fettuccine pasta

 
Directions:
Season 2 Tbs of flour with fresh ground 2 tsp black pepper and lightly coat your dove breasts in the mixture. Melt 1 Tbs butter in a cast iron skillet and brown slightly (watch you do not burn the butter). Add the dove and cook until slightly browned. DO NOT OVERCOOK YOUR DOVE MARSALA 1 DOVE! Pull the dove while it is still rare, we will finish it to a medium rare later on, right now we are just looking to get a good sear on them. 
Add your mushrooms to the remaining butter and dove drippings and brown. 2-3 min should do it. Dice your shallot and garlic, add to the mushrooms and cook until aromatic, 2 min or so. Add the marsala to the vegetable mixture and scrape all the delicious browned bits from the bottom of the skillet. Once the skillet has deglazed add the heavy cream, stock and 2 thyme sprigs. Bring the liquid to a light boil, reduce heat and simmer for 15-20 minutes or until your sauce has darkened and thickened to your liking. If you like a heavier sauce lightly sprinkle in a little flour. 
As your sauce is thickening cook your pasta per their instructions and throw some garlic bread in the oven When you are about 3 minutes away from sitting down to eat add the dove to the sauce to bring it to a medium rare temp. Spoon your dove marsala onto a bed of fettuccine, garnish with a few leaves of fresh thyme, pair with a nice red wine and enjoy! (If you are not a barbarian like myself pull the dove from the sauce as your are plating and slice it thin for a more elegant presentation.)
Hot Tip: Save a handful of dove vacuum sealed bag for morel season! You will not regret it. 
Round 2: Smoked Dove by Hi Mountain Seasonings
Ingredients:
20 plus dove breasts, with the bone in

1 brine bag

Olive oil
Glaze
6 tbs butter

4 tbs brown sugar
Directions:
Mix the Hi Mountain Seasonings Game Bird Brine with one gallon of ice water in a brine bag or a non-porous container.

Add the cleaned dove breasts to the brine. Refrigerate 24 hours.

After refrigerating the dove breasts in brine for 24 hours, remove and rinse in cold water. Soak the dove breasts in water for 90 minutes, changing the water once.

Air dry the dove breasts on a oven rack for one hour.

While the dove breasts are drying, set your smoker or pellet grill to 225 degrees F.

Lightly coat the dove breasts with olive oil and cover with a generous amount of Hi Mountain Seasonings Trail Dust.

Transfer oven rack with the dove breasts to the smoker or grill.

Melt the butter and add the brown sugar. Stir until the brown sugar is completely dissolved. Keep the glaze warm until ready to use.

After cooking for one hour, baste each dove breast with the glaze.

Cook for an additional hour or until the dove breasts reach the internal temperature of 165 degrees F. 

Remove and serve.
To learn more about Hi Mountain Seasonings visit their website.