Why are oceans so strong?….Must be the mussels by Katie Wiley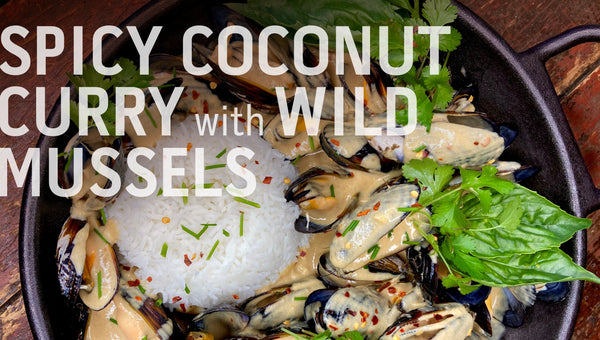 This week's recipe brought to you by Katie Wiley

Instagram: thekitchenwild
This quick and spicy recipe is originally made with locally sourced Oregon coast mussels, but can be made with any fresh mussel or other seafood that is available in your area. Sautéed garlic is then mixed with peanut butter, yellow curry paste, red pepper flakes and salt. Add the mussels to the sauce, garnished with fresh herbs and served over jasmine rice and enjoy!

Ingredients:

2-4 dozen mussels (depending on size). Cleaned and pre boiled until fully cooked, beards removed. Here is a great way to clean mussels if you do not know how.
1/2 Tbs. coconut oil
3 garlic cloves, minced
1 (13.5 ounce) can of coconut milk
2 Tbs. Maeploy Kitchen yellow curry paste
2 Tbs. peanut butter
1 tsp. red pepper flakes
1/4 tsp. salt
Fresh basil, cilantro and chives for garnish
Directions:

In a large skillet or stock pot on medium heat, add coconut oil and garlic and sauté for approximately one minute, stirring constantly.
Add coconut milk, yellow curry paste, peanut butter, red pepper flakes and salt and simmer for approximately 5 minutes.
Add cooked mussels, toss through sauce. Garnish with fresh basil, cilantro and chives and serve with a side of jasmine rice.