Sportsman's News Video Product Review: Outdoor Edge Razor-Lite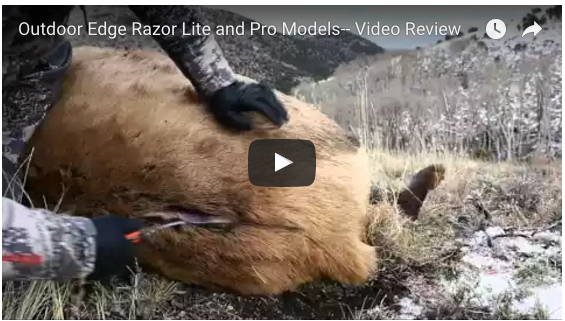 NOTE: This article was originally published by Sportsman's News. Please visit their site for more great articles, information and videos on the outdoors.
The Razor-Lite is a full-sized drop point folding hunting knife that comes with 3-1/2" replaceable razor blades made from surgical grade 420 stainless steel. The rubberized TPR handle provides for an extremely ergonomic non-slip grip. This tacky feeling handle material is ideal for a hunting knife because it gives you something to safely hang onto, even when the knife becomes wet with fat and blood.
The razor blades with this system are not only extremely sharp, but durable as well. The knife blades themselves are very rigid and have the additional support of the black oxide coated blade holder. This gives you the ability to pry on joints or cape around the antlers without the worry of breaking a blade. It is a comfortable feeling to know that you can apply some leverage on a blade and even if the worst of things happen and it damages the blade, you can replace it with a fresh new one for just a couple dollars instead of ruining that valuable family heirloom.
Changing the blades with this knife is extremely safe and easy. A push of a button disengages the locking mechanism and the blade slides right out. This allows you to easily remove the old blade without having to use a multi-tool or worry about slipping and having that dirty and now dull surgical blade cutting you to the bone. The blade support system works as a guide to insert the new blade back into the locking mechanism. While this knife is designed with disposable blades, the rigidity of the blade support makes it so that you can sharpen the knife and get much longer life out of each blade if you choose to. By using a ceramic or small steel to touch up the edge every few minutes, you will find the edge will stay sharp up to 50% longer. In short, sharpen the knife if you like or swap out the blade with a shaving sharp new one and get right back to work.
The overall knife itself is 8" long with a blade length of 3.5". The total weight of the knife is 3.6 ounces. One thing I like about Outdoor Edge is they package their knives with a quality nylon sheath that carries both the knife and spare blades together as one unit. Another nice feature is the H-style belt loops that allow you to carry the knife both vertically or horizontal on the belt. The Razor-Lite comes with a black nylon belt sheath and the orange handled Razor-Blaze comes with a Mossy Oak sheath.
Each knife comes with six precisely heat treated and surgically sharp 420J2 stainless steel blades that are individually vacuum sealed. Additional packages of six replacement blades are sold separately. Outdoor Edge's suggested retail price for the Razor-Lite is fifty dollars, but you can pick one up for much less than that at your local Sportsman's Warehouse.