Save $1000 on 2018 Ohio Trophy Whitetail Hunts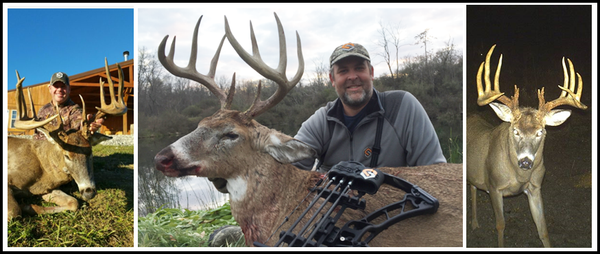 Outdoor Edge
 would like to thank you for being a loyal customer.  To show our appreciation, we are teaming with 
Cast and Blast Lodge Ohio
 to offer this tremendous hunting special - 
$1000 off all whitetail hunts!
  This hunt is conducted in Southeast Ohio – arguably one of the best areas in the world to hunt Trophy Whitetails! Year after year Ohio continues to put bucks in the record books.
We hunt on over 8,000 continuous acres (over 9 sq. miles) surrounding the town of Cadiz in Harrison County (it ranks among the top counties in Ohio for deer density per square mile). 
We have undoubtably the best whitetail habitat you have ever seen! Timber ridges,draws, natural travel corridors, apple trees, acorns, 20+ ponds and literally thousands of acres of crown vetch!
We have protein feeders running year round, use the best minerals in the industry, feed alfalfa bales for late season hunts and we broadcast corn – all to ensure healthy, heavy racks on our mature trophy whitetails.  All our hunting is done from blinds or tree stands – there are no deer drives or spot and stalk hunting so our deer are not over pressured.  Our Food Plots are professionally managed by Mossy Oak Biologic Field Plot Specialist Brad Lockwood. These plots are strategically placed in timbered covered pockets so the mature bucks feel comfortable showing themselves in daylight hours.
Hunt Prices:
Archery (5 Days)                       $3500 Regular Price - 

$2500 Special

Shotgun (4 1/2 Days)                $4000 Regular Price - 

$3000 Special

Late Muzzle Loader (4 Days)    $3500 Regular Price - 

$2500 Special
Hunt Info:
Hunt Dates:

Archery (October - January)

Shotgun (Early December)

Muzzle Loader (Early January)

Over 8,000 acres of trophy managed property

License & tag over the counter ($150)

Meals and lodging are included

All stands, blinds, and lockons are provided

Guide will take you to and from stand location until you feel comfortable getting there

Potential to kill a 160″-200″ bruiser!

Closest commercial airport is Pittsburgh, Pa (1:15). The Harrison County Airport is only a few miles away for clients with private planes.